---
About The Beauty of Grey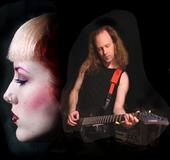 The Beauty of Grey; a studio project born late 2005. Beautiful haunting vocals, lush string arrangements, plus dark overtones running throughout. The Beauty of Grey has strong roots in both folk and gothic genres.
Denice Stout is a talented singer, who has been involved in informal music projects in both England and her native Holland. Her deep spirituality and life experiences are reflected in both her haunting vocals and lyrics. Denice's multilingual abilities add an extra depth and insight to the tracks.
Steve Netting (Formerly of Moon Foundation and Caffeine kill) is the creative force behind the musical arrangements. His work in this project is a development from his previous work, returning to his traditional musical training for inspiration.
---
Design by Jon Murphy © 2006.